Baby video monitors are a great way to watch your child whilst they are sleeping. But often the design is frustrating because you can't angle the monitor to properly see your baby. Our range of Flexi baby monitor holder products are innovative as they overcome this problem. They're the perfect accessory for any baby monitor holder, and compatible with nearly all baby monitors on the market. Great for an any parent with a newborn.
The Original, Award Winning
Flexi Holder

– The Universal Baby Monitor Holder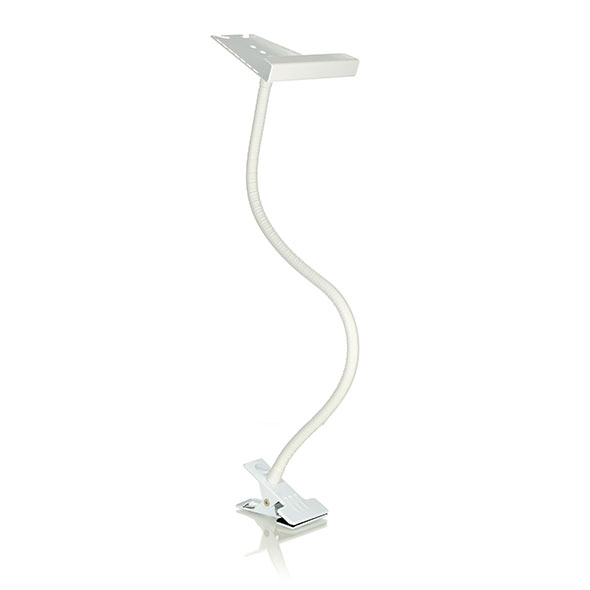 Shelf
Stylish shelf which is wide enough to hold any video monitor, with a lip on the end to secure the monitor on the shelf
Colours
Currently available in white or black, to suit any nursery
Portable
Our Flexi products are lightweight and portable, making them ideal for travel situations
Clamp
A strong clamp can hold and grip furniture up to 20mm in thickness
Flexible Hose
Perfectly designed flexible hose can easily be flexed into position to provide the best viewing angles
Velcro
For those cameras with a screw thread underneath, a screw bolt is included to safely secure the camera to the shelf, along with velcro straps for added security
Rubber Grip
This helps to protect the surface you are clamping too, as well as aiding better grip
Our Flexi products have registered design protection in the UK. The designs is registered with the Intellectual Property Office (IPO).
The Freestanding
Flexi Air 3 & Flexi Air 360

Baby Monitor Holders
Flexible Hose
Perfectly designed flexible hose can easily be flexed into position to provide the best viewing angles
Shelf
Stylish shelf which is wide enough to hold any video monitor, with a lip on the end to secure the monitor on the shelf
Velcro
For those cameras with a screw thread underneath, a screw bolt is included to safely secure the camera to the shelf, along with velcro straps for added security
Freestanding, With Either 3-Legs, Or Round Base
No need to worry about find a suitable spot or furniture to attach the Flexi Air products to, as they're freestanding and can be placed anywhere in your nursery
Portable
Our Flexi products are lightweight and portable, making them ideal for travel situations
Colours
Currently available in white or black, to suit any nursery
The
Flexi Twist

Baby Monitor Holder
Flexible Hose
Perfectly designed flexible hose can easily be flexed into position to provide the best viewing angles
Portable
Our Flexi products are lightweight and portable, making them ideal for travel situations
Rubber Grip
This helps to protect the surface you are clamping too, as well as aiding better grip
Jaw Clip For Camera
Wide jaw clip compatible with cameras no wider than 70mm
Clamp
A strong clamp can hold and grip furniture up to 70mm in thickness
Velcro
Velcro straps are included to secure the camera to the holder, and to secure loose cables
Colours
Currently available in white, to suit any nursery
The
Flexi Twist Pro

 Baby Monitor Holder
Flexible Hose
Perfectly designed flexible hose can easily be flexed into position to provide the best viewing angles
Portable
Our Flexi products are lightweight and portable, making them ideal for travel situations
Rubber Grip
This helps to protect the surface you are clamping too, as well as aiding better grip
Shelf & Jaw Clip For Camera (2x Methods)
A large shelf  which holds a majority of camera models & Wide jaw clip compatible with cameras no wider than 70mm (2x ways to hold the camera)
Clamp
A strong clamp can hold and grip furniture up to 70mm in thickness
Velcro
Velcro straps are included to secure the camera to the holder, and to secure loose cables
Colours
Currently available in white, to suit any nursery